It's time to pay less for your auto loan! If you're financed elsewhere, bring us your loan...
We can lower your rate
Get cash back up to $500
Fast and easy approval
Low Affordable Rates
Effective Date: Saturday, October 20th, 2018
As low as
1.49%
APR
---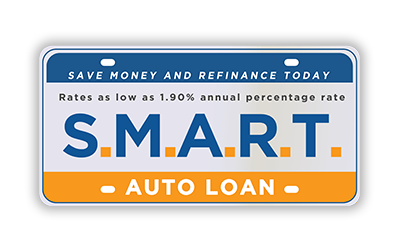 Get Started Today
Apply now and we will get to work on the funding you need!
How it works:
Get a better rate!
Bring us your statement showing your current interest rate, and we will refinance your auto with a better rate at a minimum of 1% lower than your current loan, down as low as 1.49% APR.
Get instant cash back!
In addition to giving you a better rate, we will give you cash, up to $500, at loan closing! The cash amount paid to you is at the value of 1% of the loan amount, not to exceed $500.
Qualifying required for loan and membership. APR = annual percentage rate. Qualifying rates as low as 1.49% APR based on credit worthiness, term, age of vehicles, and other factors. Cash back given upon loan closing at 1% of new loan's value at a maximum of $500. See branch or call for details.
Go to main navigation