Download Your Limited Time Loan Savings Certificate
In celebration of the Ellisville Grand Opening
Receive huge savings on your next loan with a loan savings certificate at Central Sunbelt!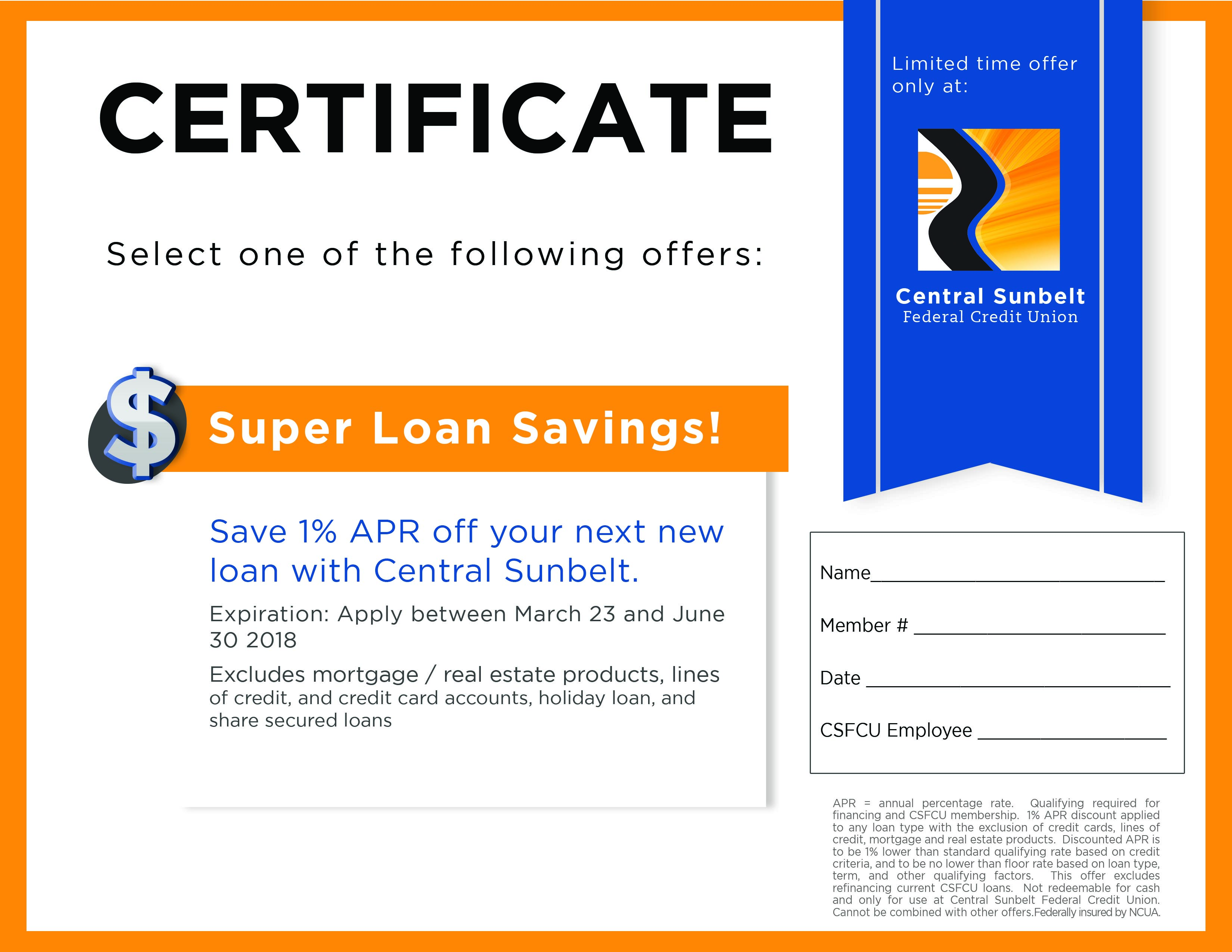 Use one of two offers
Choose between one percent off your next loan or waived origination / administration fees for an in-house Central Sunbelt mortgage!
How it works
It's simple: collect your voucher at any Central Sunbelt branch, or download using the download button, available for a LIMITED TIME ONLY; during the Ellisville Grand Opening weekend!
Receive your voucher Friday March 23 or Saturday March 24th.
When does the voucher expire?
You must apply for the loan of your choice by July 1, 2018
Did you miss out on your 1% off certificate?
There may be anopther opportunity right around the corner! Pay attention to your e-mail, sunbeltfcu.org, or our Facebook page to stay up-to-date on upcoming exciting promotions.
Details
Offer for 1% discounted loan rate is for all loan types excluding: mortgages / real estate products, lines of credit, credit card accounts, holiday loan, or share secured /certificate covered loans. 1% discount applied to regular qualifying rate. Discounted rate CANNOT go lower than the floor rate of a specific term, down to 1.90%. Under no circumstance can the discounted rate go lower than 1.90%. Waived origination / administration fees (up to $1500) is applied to in-house mortgages only. Limit of 1 voucher to be used per member #. Voucher and offer cannot be combined with other offers or promotions with discounted rate.

« Return to "Blog"

Go to main navigation

Share